Welcome to Naturopathic Spa
A holistic Healing Destination.
Metabolic Detox
Premium 10-Day Cleanse
Metabolic Detox- Premium 10-Day Cleanse
$399 prepaid Includes Body Mass Index (BMI) analysis, pH analysis, nutritional counseling, individualized meal plan, unlimited support.

Gently cleanse your liver & colon
Rid your body of accumulated fat and toxins
Lose up to 10 lbs
Energize your body
Improve mental clarity
Order The Ultimate Anti-aging guide
Unveil the Secrets of a Younger looking skin
15 Super Secrets for Anti-aging
The Ultimate Guide to Younger- looking Skin.70 is the new 50, and 40 is the new 20.Every woman deserves to enjoy a young-looking, healthy, flawless and Radiant Skin.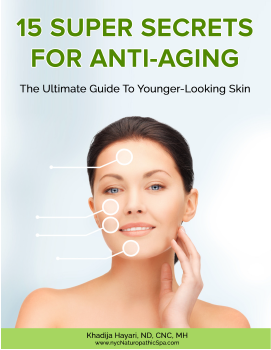 In this e- book Dr. Khadija Hayari, board certified Naturopathic Doctor and a Nutritional Consultant, shares effective methods, easy to implement health and beauty Secrets that will help your skin stay radiant, healthy and young-looking.
Mind Body Care
Book your holistic healing package
New E-book Coming Soon
15 Super Secrets for Acne-Free Skin